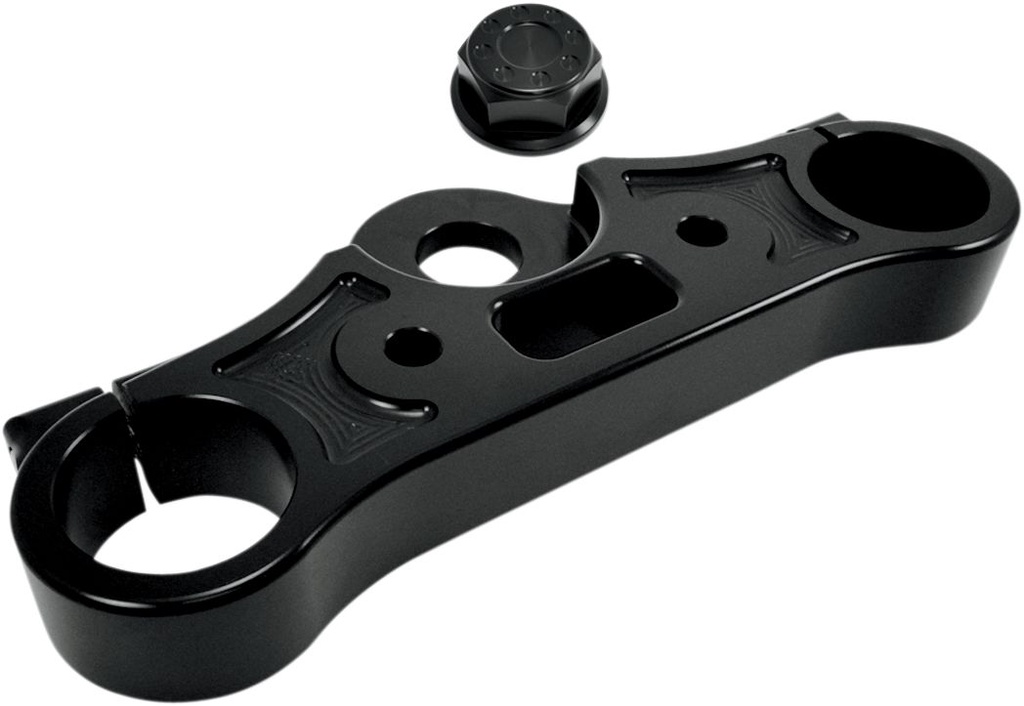 TREE UPPER 08-17 FXD BLK
Artikelnummer: 04080295
3 336 kr
Produktbeskrivning
Joker Machine Upper Tree 49Mm Alloy
Features and Overview:
Replace your H/D Dyna model's "built-in handlebar riser" top tree clamp with one of our versitile billet clamps!
• Replaces the stock "dedicated to one option handlebar clamp", with mounting holes that accept pretty much any riser selection that's out there. • Aircraft inspired design • CNC machined from billet aluminum. • Available in our "HARD BLACK", or clear anodized finishes. • Fits late model Dynas with 49MM dia. fork tubes. • Upper Tree comes with 1/2-13 riser mounting bolts and steering stem nut. • Complete assembly comes with risers, 1/2-13 riser mounting bolts, and steering stem nut (as shown on bike). • Made in USA
Installation:
Refer to service manual to remove stock upper tree. Use blue Loctite on all hardwrae.
Fork tube bolts: 3/8-16 x 1-1/4″ socket cap screws. 5/16″ hex tool. Torque spec 49 ft-lbs
Handlebar riser bolts: 1/2″-13 x 2-1/4″ socket head cap screws. 3/8″ hex tool. Torque spec 113 ft-lbs
Steering stem nut: 1-1/2″ hex. Cover the hex with something to keep the finish from being scratch during installation. Do not torque. Use blue Loctite.